Dee Kirkham Fine Art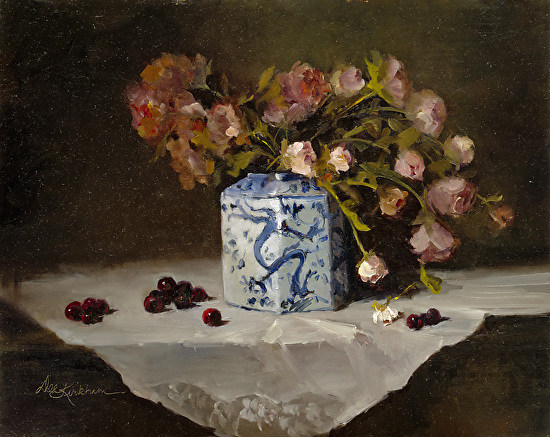 Romantic Roses




16" x 20"



OIL PAINTERS OF AMERICA
21st Annual National
Juried Exhibition of Traditional Oils
Visit Oil Painters of America website to view the exhibition
http://www.oilpaintersofamerica.com/events/exhibitions/2013/national/associatesignature.cfm
InSight Gallery
214 West Main Street
Fredericksburg, TX 78624
Convention: May 15-19, 2013
Exhibition: May 18 - June 17, 2013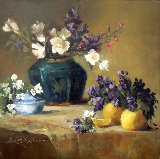 October 21-25, 2013
Parkersburg, WV
Parkersburg Art Center
Learn the creative process from beginning to finishing your still lifes with Dee Kirkham, an multi-award winning artist. Dee will take you step by step composing your still life to defining your "concept". She will do a comprehensive demonstration on the first day to share techniques, "tricks of the trade", setting up the composition, how to not lose your "concept", and how to finish the painting! Capturing the light and the shadows is key to creating a beautiful still life. Dee will show you how to do this in her demonstration and then work with you each in your own paintings to refine your paintings to take your artwork to a new level. Abstract Realism, as defined by David Leffel, Dee's mentor and teacher for 10 years, is the concept to capture the elusiveness of beauty in a still life with the power of the brushstroke and showcasing the abstract beauty of paint itself without the dilution of a recognizable image. In other words, capture the beauty by making each brushstroke count, capturing the light and shadow, and developing the painting to be a masterpiece, giving the viewer the open door to be a part of the painting. Dee would be happy to discuss your artwork with you personally and how this workshop could benefit you.
Art is my life journey, more beautiful shared than alone!
Contract Dee Kirkham for all workshop registration - dee@deekirkham@msn.com
If you would like to have a workshop in your area, please contact Dee!